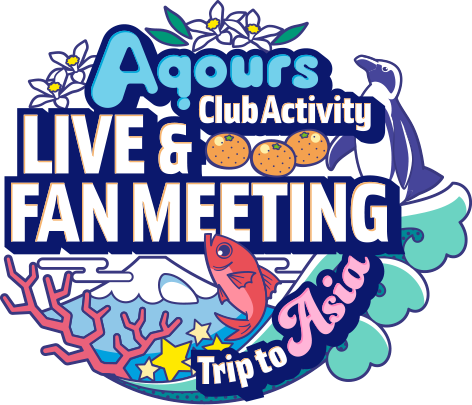 Love Live! Sunshine!! Aqours Club Activity LIVE & FAN MEETING Trip to Asia
-Landing action Yeah!!- in Seoul LIVE VIEWING
■Date / 直播日期
2017年11月18日(六)18:00 開演(香港時間)
■Venue / 直播地點
【香港】GRAND KORNHILL CINEMA(康怡戲院), the sky
■Ticketing / 售票資訊
【香港】2017年10月25日(三)12:00~(香港時間) 戲院票房/網站/手機程式售票
■Ticket Price / 票價 : HKD 250 ★現場直播限定入場特典
※注意事項 Attention
• 活動現場嚴禁攝影,拍照,錄音。如經查獲,將刪除拍攝內容並請您離場,謝謝您的合作。
 It is strictly prohibited to photograph or take any audio/visual records whatsoever in the theaters.
 If someone does such a prohibited act, we will delete the data and make him/her leave the theater.
 Thank you for your cooperation.
• 因本活動為現場直播,音質和畫質會因網絡状況等因素,而受到一定程度的干擾,敬請見諒。
 Please note that video and audio may be affected due to the line conditions.
• 當演出時間大幅超過預期,直播會有可能在中途結束,敬請見諒。
 Please note that the screening might be terminated even before the show ends if the show continues much later
 than the scheduled end time.
LIVE VIEWING Official Website  
http://liveviewing.jp/screenings/lovelive-aqours-eng/