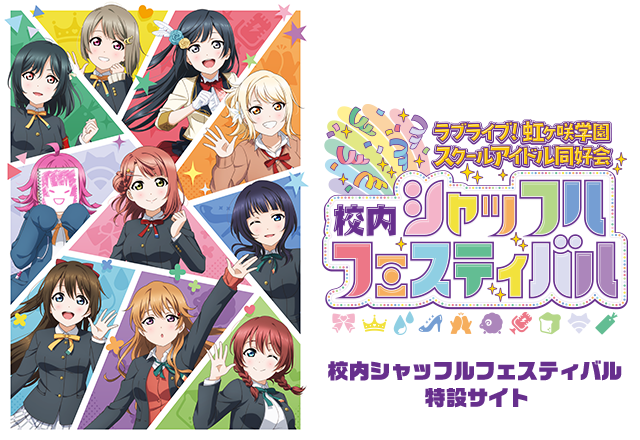 Love Live!Nijigasaki High School Idol Club
Shuffle Festival in School
/ Tickets for overseas[Live Streaming]
Paid live streaming concert
[Paid live streaming concert]

Love Live!Nijigasaki High School Idol Club

Shuffle Festival in School

[Live streaming schedule]

Day.1
March 20th, 2021 (Sat)

Concert Start 18:00 (JST)

Day.2
March 21st, 2021 (Sun)

Concert Start 16:00 (JST)

[Archival replay]

Day.1
March 21st, 2021 (Sun) 12:00

until March 28th, 2021 (Sun) 23:59 (JST)

Day.2
March 22nd, 2021 (Mon) 12:00

until March 28th, 2021 (Sun) 23:59 (JST)

Customers who have purchased virtual tickets can also watch archive.

[Ticket Information]

Ticket Price

| | |
| --- | --- |
| ・1performance Ticket | 4,800 JPY |
| ・2performance Ticket | 8,640 JPY |

eplus 「Streaming+」 is only available for 1-day ticket. For 2-day ticket, please purchase separately.

<PIA LIVE STREAM>

Available in the following countries and regions

<North America>

United States

<Europe>

Netherlands, Greece, Germany, Belgium, Romania, Hungary, Denmark, Ireland, Finland, Portugal, United Kingdom, Spain, France, Italy, Norway, Czech Republic, Bulgaria, Sweden, Austria, Poland, Switzerland

<Asia Pacific>

India, Malaysia, Hong Kong, Philippines, South Korea, Singapore, Taiwan, Australia

<Latin America and the Caribbean>

Colombia, Argentina, Brazil, Chile

<Middle East>

United Arab Emirates, Bahrain, Israel

<Africa>

South Africa, Kenya

Sales period:March 5th, 2021 (Fri) 15:00 – March 28th, 2021 (Sun) 21:00 (JST)

Payment Method: Credit card only

https://w.pia.jp/a/nijigasaki-shuffle-fes-ol/

<eplus「Streaming+」>

Available in the following countries and regions

<North and South America>

Canada, United States, Brazil

<Asia Pacific>

Australia, HongKong, Indonesia, South Korea, Macau, Malaysia, Philippines, Singapore, Taiwan, Thailand

<Europe>

United Kingdom

Sales period:March 5th, 2021 (Fri) 15:00 – March 26th, 2021 (Fri) 21:00 (JST)

Payment Method: Credit card and Alipay

https://ib.eplus.jp/nijigasaki_shuffle_fes_ol
【Caustion】
Please check the ticket agency for details on how to purchase and watch tickets.
A fee will be charged for this live stream event. All rights are reserved by the organizer.
Commercial use as well as private use such as filming, recording and advertising of distributed video are prohibited.
Please enjoy with good manners.
【Support】
<PIA LIVE STREAM>

<eplus「Streaming+」>