Special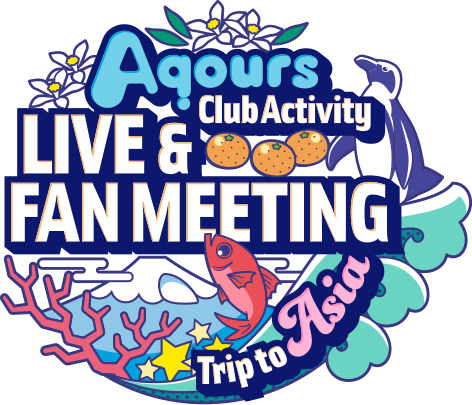 Love Live! Sunshine!! Aqours Club Activity LIVE & FAN MEETING -Landing action Yeah!!-
Overseas Live Viewing Information
★台北公演
【關於花藍贈送】
若欲致贈前台花籃,請填寫表單:
https://goo.gl/L66UYt
每一個花籃一位代表填寫即可。若是同一位致贈多座花籃,也請填一張表單就好喔,麻煩大家了。並請勿重覆填單!
◎請各位觀眾在致贈高架花籃時,特別注意以下幾點事項:
1.大小
<前台高架花籃>
花束
底座40x40cm,含裝飾品的總高度180cm以下,
其中裝飾花及裝飾物切勿超出太多,左右寬度若超過30cm、高度超過15公分,以及假設額外裝飾物加到花架上後若整體過重,
可能導製花架無法獨自站穩等情況,或是整體大小過大影響到現場空間擺放,都將可能因現場情況導致無法陳列擺。
還請各位與花店討論製作之餘,務必多加留意。
確定致贈的朋友,請務必填寫本表單:
https://goo.gl/L66UYt
<後台贈花>
限收不需要大花盆、立架等的小型盆花及花束。
裝載花藝的容器,尺寸限制:長寬務必低於40x40公分,整體高度包含裝飾花及裝飾物需低於80公分。
若是花束,整體高度請務必低於80公分,整體重量務必低於2公斤。
不符規定者,由於後台空間有限,可能不便為代為致贈,將請花店直接收回,謝謝。
※後台贈花視為禮物,請直接交予服務台人員協助處理。  
2. 指定抵達及指定回收時間
指定送達時間:2/10上午10:00~11:30
指定回收時間:2/10 晚上21:30~22:00
送達地點:台北國際會議中心,演唱會服務台(僅2/10有設置)
※訂購時,請務必與花店或配送業者溝通於演出結束後前來回收。  
3. 其它限制
所有花籃的牌子或紙牌上,如果有寫出個人情報的「地址」或「電話號碼」等,將直接請花店取回,不予放在會場陳列,亦不予送至後台,這點請各團體特別注意。
※人力有限,恕無法於非指定時間收取花籃,敬請配合。
※超出指定尺寸,將依會場現況,可能無法陳列。
※高架花籃之陳設位置將依據場地規定遵守消防法法規,按照主辦方之判斷,不依特定順序進行陳設。恕不無法指定擺設位置或順序。
※如收到過多花籃,則可能無法全數陳列。
※依據當天現場狀況可能會更動一部分的擺設位置。
※現場工作人員須服務所有觀眾,恕無法配合特殊要求的領回花籃、裝飾物、回收、寄送或擺放指定地點等各種特殊額外要求。
※若有維護觀眾安全及動限等安全上的考量因素,現場可能發生無法收取,或是必須撤掉花籃的可能性。
※因交通狀況等造成配送延遲等之情事,主辦方恕不負責。
以上注意事項還請您多多配合,敬請見諒。  
【高架花籃 收件資訊】  
<台北國際會議中心TICC>
11049 台北市信義路五段1號
收件人:雅慕斯娛樂 +886-958-622-890
以上提供之電話號碼,非公演相關資訊之客服電話。
關於公演的詢問,請參考下方聯絡資訊。
雅慕斯娛樂 (02) 8773-7972
每週一到五,10:00~19:00
【About flower baskets】
If you would like to send arranged flower baskets, please fill out the form below:
https://goo.gl/L66UYt
Each person requires only one form filling, even if you wish to give a multiple numbers of baskets. Please fill in only one time per person!
◎Please note the followings when ordering arranged flower baskets:
1.Size
<Flower stands to be put in the lobby>
To be within 40x40cm for the base, and under180cm with decorations included.
Please note that the width of decorations may not exceed the limit more than 30cm, and the height more than 15cm. Also, if decorations are too heavy, causing the stand to be unable to stand by itself, or taking up too much space in the lobby, there will be a chance that it will not be exhibited. Please double check with your flower shop about the requirements.
If you are sure you will send a stand, please fill in this form:
https://goo.gl/L66UYt
<Flowers to the backstage>
We limit flowers to those that do not need big or extra vases and stands.
For vases, below are the size requirements: depth and width under 40x40cm, height to be under 80cm including decorations.
If you are sending flower stands, the total height has to be under 80cm and weight to be under 2kg.
Since space is limited at the backstage, items that do not meet the requirements will not be accepted, and we may ask flower shops to collect them immediately. We appreciate your understanding.
※Backstage flowers are considered to be presents. Please hand them in to service counter staff.
2. Arrival and collecting time
Arrival time:10th February 10:00a.m.~11:30a.m.
Collecting time:10th February 9:30 p.m.~10:00 p.m.
Address:Taipei International Convention Center (TICC)1st floor event service counter (only available on 10th February)
※When ordering, please communicate with flower shops and do not forget to ask them to collect flower stands after the event.
3. Other requirements
We will ask flower shops to immediately collect any items that has personal information such as home addresses and telephone numbers on them. Please be careful since such items will not be exhibited, especially for groups and corporations.
※We will not be able to receive flower stands outside the specified time above.
※Items that exceed size limits, may not be exhibited depending on conditions on that day.
※Place to exhibit flow stands will be decided by event host according to fire service act regulations, and no requests regarding the order and location will be accepted.
※If we receive a number of flowers that exceed the capacity of the lobby, we may not be able to exhibit all.
※We may change the place and order of exhibition due to conditions on that day.
※We will not be able to take orders about special picking up and collecting of flowers, nor special requirements regarding decorations and exhibition.
※Due to safety reasons, we may not be able to accept or exhibit certain items.
※We do not assume any responsibility in case of delay due to traffic conditions.
We appreciate your kind understanding and cooperation.  
【Flower stands mailing information】  
<Taipei International Convention Center (TICC)1st floor>
1 Hsin-Yi Road,Section 5,Taipei 11049
Recipient:AMUSE ENTERTAINMENT TAIWAN Inc. +886-958-622-890
The about telephone number is not for inquiries.
In case of inquiries,Please contact the hotline below:
AMUSE ENTERTAINMENT TAIWAN Inc. (02) 8773-7972
Every Mon~Fri,10:00a.m.~7p.m.